The purpose of this blog is to identify ways to align building and operating a yacht with nature. I am investigating the links between the various parameters, like structural materials, to the natural resources and then ways to limit their environmental impact. The process follows roughly a project development process and we are at a point that size and materials are defined. Therefore it is time to look into the shape of the yacht, which is heavily influenced by the beauty standards of the owner, yet we can't neglect the aspects affecting powering, in an effort to use what is absolutely necessary and avoid excess of fuel consumption. Needless to point out that I am not considering a sail yacht, as a motor yacht represents the majority of super- or mega yachts and is the evil brother of the two types.
Resistance is the predominant factor opposing movement, like in any other vehicle. Frictional resistance from the underwater hull or superstructure is the major component of it. Having a thin hull is favourable in this respect, which can be propelled with lower engines, yet this is a hull with small spaces. The owner is looking for a yacht that can accommodate his/ her necessities in personal and entertainment space, without missing daily comfort. So, although we do encounter thin hulls like M/Y "Yas", the majority of yachts is leaning towards bigger displacement, like M/Y "Dilbar".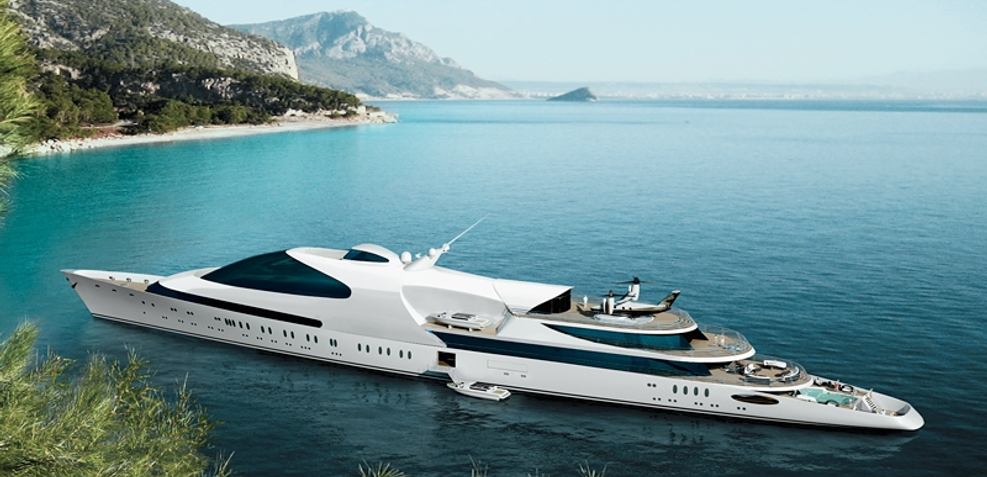 Namely payload is prevailing frictional resistance, which called for further studies from naval architects, institutions and major key players to identify features that, when affected, will improve resistance. Bow design has been experimented historically in empirical ways and recently through tests, in connection to wave resistance.
Most people are familiar with the clipper or raked bows and have seen spoon bow, though may not know their names. These shapes have been traditional, lived through the centuries and are trusted by all. Yet when a bulbous is added in the underwater part, affecting the wave pattern hence wave pressure locally, significant reduction to the wave making resistance is estimated. For this reason bulbous has been adopted widely since the mid of 20th century. Yet it is not beneficial in all speeds, quite the contrary since at low speeds it is actually increasing resistance. Moreover its effects are positive only on hulls with large wetted area, no benefit for smaller yachts. And since having ice-class lately is in vogue, having a bulbous for ice is unadvisable, there one needs a wave piercing bow or equivalent.
The vertical (or plumb) bow has also been around from the phoenician times, has been integrated in famous yachts of the 20th century like S/S "Delphine", but recently has made a come back with improved shapes, like the axe bow from Damen. Fortunately this is also furnished with third party performance data that are not presenting a reduction in wave resistance, but note an increase in calm seas. The inverted bow is a small variation of the vertical bow and the X-bow of Ulstein one step further, with the leagde bow to be a combination of the vertical and bulbous bow. They, too, claim improved resistance, yet no independent data are available.
Another factor affecting powering, and laterally structural fatigue, and is connected with the bow design, is slamming. With every dive of the bow into the waves, power is lost while coming out and the structural members are strained. For these reasons vertical variations of bows are beneficial.
The bow of a yacht, is close to a signature. It is a feature distinguished from the rest of the hull and the raked bow has been captured from photographers and painters millions of times. If we compare it with the modern, in fashion bows, it is not really lacking in comparison for cruising in the Mediterranean or the Caribbean. There is a reason why axe bow or X-bow are so popular for onshore industry, because there their advantages in seakeeping and crew comfort really add value. A yacht going to the arctic has good reasons to look into such bow types, but then again should we really encourage touring in the arctics?